There's something about great scenic railway journeys… the clickety-clack of metal on metal and the gentle swaying that keeps us just this side of sick. The longer the journey, the more interesting.
When I was a university student in Switzerland, I had a 'general pass' – a relatively cheap train travel pass that allowed me to ride all trains (and buses and boats!) in the country for a year. 
These days, you can easily buy a Eurail or Interrail pass to travel across Europe on a single ticket.
I'd hop on a train after classes, ride from Geneva to Zurich for a few hours, and ride right back, getting home in time for bed. I studied in the restaurant or bar car, watching the country go by. You couldn't ask for a better library.
I took my first train journey when I was five weeks old – my mother packed me up and crossed Europe from Paris to Istanbul on the then Orient Express to join my father. I haven't looked back since and not even a train derailment in Thailand or the Death Gorge in Burma have managed to dampen my enthusiasm for great train journeys.
What's so special about these great scenic railway journeys?
In some parts of the world, like Europe, trains are fast, often faster than flying. You show up and hop on, no major delays or waits (not usually, anyway)
You get to see the scenery!
In many parts of the world, train trips are cheaper than planes
It's a wonderful way of sharing local people's lives for a few hours (or days) – it's a rare train trip on which you don't speak to someone after a few hours
Get travel tips from your fellow travelers
You don't have to remove paper clips from your luggage because they make a difference in weight
You'll have plenty of time to think, to read, to meditate, to look at people
Your liquids don't have to be in tiny bottles
You can save a night's accommodation costs by taking an overnight ride (and wake up in a new city or country)
It's convenient: you end up at a downtown train station rather than at a distant airport
Taste romance on some of the great train journeys of the world
Some of the world's great buildings are railway stations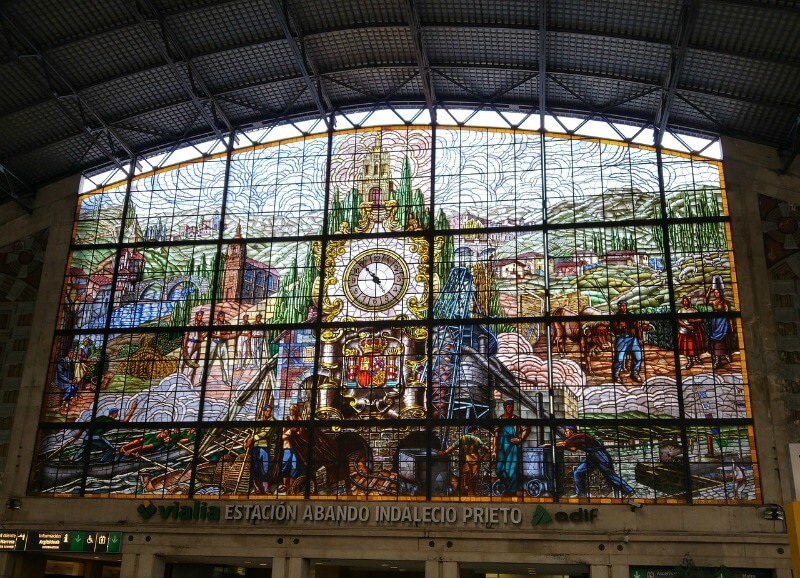 Preparing for great rail journeys
Packing for a train journey is a bit like packing for a long-haul flight, but without the weight restrictions. It's easier to pack for the train than for a long plane ride. You can carry more, and there are fewer restrictions on what you can take with you.
Here are a few packing tips to make your railway journey more comfortable:
Wear the most comfortable thing you have – stretchy, light, soft… remember you may hardly be moving for several days and might be spending the night in these clothes.
Bring a sandwich or finger food. Train food can be expensive, and not every city has vendors chasing every train.
Some gum or candy may ease a queasy stomach. In many countries, train suspension is soft, and trains lurch from side to side. Candied ginger rocks!
Bring an inflatable pillow – it won't be provided. The pillow can double as padding on hard, wooden third-class seats.
And bring a travel towel, especially if you're spending several days on board.
Some comfortable shoes that you can easily slip on and off would also be good.
Whatever you bring, make sure you can carry it yourself! Baggage tends to disappear more easily when you let someone else handle it for you.
The railway really came into its own as a mode of travel around the mid-1800s.
Train rides: How railways became an avenue for women's freedom
Rail travel allowed women of all classes to mingle with men since they sat side by side on the train. According to historian Amy Richter's book Home on the Rails, train travel changed the way women related to men who were strangers.
All this new freedom to travel came at a time when most Victorian women stayed home, so this unsupervised contact on trains with the opposite sex was seen as pretty daring, if not downright dangerous.
First Class cars were put at their disposal. Smoking men and 'other classes' had their own cars.
By the late 1800s, it was becoming quite hip for women to travel alone – they were seen as independent and plucky, and mostly they were American.
PLEASE NOTE
Some of these journeys are not feasible right now – conflicts have closed borders and violence places some countries off-limits. I've chosen to leave these journeys' descriptions here because, someday, those borders will reopen. Meantime, we can dream about what we cannot experience.
Great railway journeys of the world
What makes a great railway journey? What are the greatest railway journeys on earth?
Here is a very partial and subjective list of the best train journeys in the world. Yes, there are plenty of others, but for now, the ones below should more than satisfy the discerning rail travel enthusiast.
Best railway journeys in Asia
Asia, perhaps because of its sheer size, is home to some of the world's most spectacular train trips. Some have dizzying views, others a fascinating history, some provide luxury beyond belief and yet others plunge you deep into local culture, as you share wooden benches with farmers and villagers.
Amazing train journeys: London to Hong Kong
The world has many spectacular and scenic train rides but only a few are truly epic: taking a train from the UK to Hong Kong, as did Travelling Sam, is one of them. Few people even realize that this journey is possible!
This trip would start at London's St Pancras station to catch the Eurostar under the English Channel to the European continent. Then follow the train lines through France, Belgium, Germany, and into Poland. At the Poland-Belarus border the railway track changes gauge, and as is the case between Romania and Moldova, each train carriage has to be lifted and the wheels changed. 
Entering Russia you pick up the Trans-Mongolian line which starts in Moscow, traverses the Ural Mountains, skirts around Lake Baikal (the largest freshwater lake in the world) then down into Mongolia, across the Gobi Desert, and into Beijing. From China, there are plenty of options to reach Hong Kong, an unparalleled journey.
The Trans-Siberian
Part of this London-Hong Kong trip can take place on the Trans-Siberian Railway, whose 10,500 kilometers across Russia makes it the longest railway in the world.
The main route starts in Moscow and passes through Yaroslavl, Kirov, and Perm to Ekaterinburg and further through Siberia to Vladivostok. It takes over six days to travel the entire route, but it's best to break the journey at some of the highlights, like the historic town of Yekaterinburg, beautiful Lake Baikal, Novosibirsk, or Ulan-Ude.
You can ride in first, second, or third class but the ride is comfortable whatever the option: Russian Railways has spent more than $1 billion upgrading the trains and the route. For the ultimate luxury choose a private cabin.
During the trip, there is a dedicated tour director and attentive train attendants. For a full Russian experience, add a stop in St Petersburg either before you begin the long train journey or afterward.
The Trans-Mongolian
Long railroad trips are common in this part of the world and the Trans-Mongolian Railway is no exception.
One of the world's most iconic railway journeys starts in the Chinese capital Beijing before winding its way through northern China to cross the Mongolian border at Erlian.
Here, as happens at other borders with the former Soviet Union, the train's bogies are changed, a lengthy process that can take up to six hours. (For a vivid description of how this happens, see my story on travel to Moldova.)
The scenery changes slowly but dramatically from the barren landscapes of Sainshand on the eastern edge of the Gobi desert to the grassy, treeless plains of inner Mongolia before arriving at the sprawling Mongolian capital Ulaanbaatar. Small settlements give way to isolated, remote yurts which dot the seemingly limitless horizon.
The Trans-Mongolian train itself differs from the Trans-Siberian trains in its staff and dining car. The Trans-Mongolian dining car is an ornate carriage decorated with carved, wooden panels with intricate Mongolian patterns. It serves traditional Mongolian dishes such as mutton or goat stew or Tsuivan -fried noodles with mutton and vegetables.
Accommodation on board is cozy, with two berths offered in first-class carriages and four berths in second class. Each class and carriage share toilets and basic washing facilities and have access to free hot water from a samovar. 
You can break a Trans-Mongolian journey at Sainshand or Ulaanbaatar but a separate ticket is needed for each section of the trip. From Ulaanbaatar, the Trans-Mongolian continues into Russia where it connects with the different Trans-Siberian routes. 
Train Journey from Tokyo to Kyoto
Far from the great expanses of Mongolia and Siberia, you can ride the Shinkansen for a taste of futuristic travel. The Shinkansen or "bullet train", as many people call it, is a high-speed train that is efficient for travel between many cities in Japan.
A popular Shinkansen route often used by tourists is the one between the capital Tokyo and Japan's cultural capital, Kyoto. What makes this journey special is that you can travel across the country, 365 Km, in just 2 hours and 20 minutes if you take the fastest train.   
Nozomi is the fastest train on the Tokaido-Sanyo Shinkansen route. However, more people prefer to travel via Hikari, the second-fastest bullet train. Traveling via Hikari takes just 20 minutes more, is less expensive than Nozomi, and available on the JR Pass.
One thing that makes travel on the  Shinkansen pleasurable is the peace and quiet.
As is typical of many train journeys in Japan, the locals are considerate and try not to disturb others by keeping the noise level to a minimum. This, coupled with comfortable seats and ample foot space, means you can relax and even have a short nap. If you manage to stay awake, don't forget to look out of your window for Mt. Fuji and other beautiful sights along the way.
Vietnam's Reunification Express
Vietnam's Reunification Express is perhaps Southeast Asia's most famous rail journey and runs nearly the full length of Vietnam, from Hanoi to Ho Chi Minh City (formerly Saigon).
The 34-hour journey may put a dent into your Vietnam itinerary. If you have two weeks or more, you can easily cover the full length of the tracks. If you have less time, stick to either the north (Hanoi to Da Nang) or south (Da Nang to Saigon) sections. 
The sleeper cabins are tight but surprisingly comfortable, and the guards like to make a show of setting them before bedtime. Food is available but limited – especially if you have dietary requirements – so bring your own if you can.
In addition to the dramatic landscape changes as you cross the country, you'll be surrounded by locals, providing insight into a Vietnam you might not otherwise see. Despite the language barrier, you'll likely have many wonderful interactions.
North Borneo Railway
Contrary to some of the lengthy train vacations you might take across Asia's expanses, the Sabah State Railway, formerly known as the North Borneo Railway, is a short 134km piece of colonial history that runs from Kota Kinabalu to Beaufort and Tenom, the coffee capital of Borneo. It's one of the fun things to do in Sabah, Malaysia.
Construction of the railway line lasted from 1896 to 1898. It was built to carry tobacco to the coast for export. During World War II much of the railroad was destroyed and then rebuilt in the 1960s. Shut down again in 2006 for maintenance, it reopened in 2011.
It now risks shutting down for financial reasons so ride it while you can. Not only does it cross some pristine rainforest you could not otherwise see, but it is also the only means of transport for local people in this roadless, remote area.
The train consists of three bright blue iron carriages, with hard, worn seats. Doors and windows are kept open so passengers can lean out and enjoy the view and, more importantly, smoke cigarettes. This train is definitely one of the most interesting things to do in Borneo.
The Maitree Express
The last of India's "frontier railways" is the line that runs from Kolkata (Calcutta) in west Bengal, India to Bangladesh's capital city, Dhaka. The Maitree Express runs 357 km between the two cities.
This train has out-lived its India-Pakistan equivalent, the Samjhauta Express, which once connected Delhi with Lahore but stopped in February 2019 due to the current situation in Kashmir. Trains between India and Nepal carry freight only, have fallen into disrepair, or are as yet a vision of the future. 
The partition of India in 1947 disrupted rail links between former East and West Bengal, and once regular train services between Kolkata and Dhaka were stopped. It was not until 2001 that talks began to renew rail links between the two countries, and in April 2008 the inaugural Kolkata to Dhaka Maitree Express was launched.
Maitree means friendship – the train symbolizes hope for growing and strategic ties between the two countries.
Today the train offers a cost-effective and comfortable way to travel between India and Bangladesh – it avoids the border controls and hassles with buses as all security and immigration are completed before boarding in Kolkata and after arrival. 
Riding the Maitree Express is a chance to travel on a piece of history.
The train takes no more than an hour or so to reach the border on the Indian side, and most of the journey is spent chugging through the Bangladeshi countryside, passing paddy fields and villages, and waiting for trains to pass.
You can forget any visions of hanging out of the doors on this train though – given the relatively high security, the train doors remain shut and all carriages are air conditioned (no open windows). One solution to this is to take a few "creative" shots from the bathroom window which does open! 
Opening windows or not, the scenery is spectacular. The line crosses two of the world's greatest rivers, the Padma (Ganges) and the Brahmaputra, before trundling into the chaos of Dhaka. 
Ooty Toy Train
In the vein of short yet delightful rides is the so-called "Ooty Toy" train, in the beautiful hill station of South India called Ooty. More formally the Niligiri Mountain Railways, the train is protected as a UNESCO World Heritage Site.
The journey starts from Mettupalayam, a small village 30 km from Coimbatore, which has an international airport. Once at Mettupalayam, you'll cover the 50 km to Ooty in five hours on a vintage steam train that curves through lush green forest, over steep mountains, and across broad rivers.  Those carving a passage to build the train through this dense land must have faced enormous odds.
This charm-riddled train and its wooden coaches make four stops, at Kallar, Lovingdale, Wellington, and Coonoor and can be booked through the Indian Railways website. It's a bit long for a day trip but you can take a shorter journey.
Great rail journeys: India in luxury
The tremendous luxury of great Indian railway journeys is well publicized but seeing is believing.
The most luxurious train ride in India is the Maharajas Express, whose eight-day journey will take you around India's most popular sites with a room to yourself,  a private bathroom, a desk, a television, and even a butler. A large train with 23 cars, 14 for guests, two restaurant cars, and two bars, it manages to feel cozy and carries 88 guests at most. 
Each day the train arrives at a new station to much fanfare and guests are taken on a luxury tour. In the evening, the train moves on so there's no travel time wasted during the day. Sites include Jaipur, the Taj Mahal, Gwalior, Lucknow, Varanasi, and Ranthambore. It's ideal for first-time travelers to India, with an opportunity to see many iconic sights, but in luxury. 
The Palace on Wheels is another luxury train that unveils the magic of India along the way.
Inaugurated in 1982, this was the train that launched the luxury railway era in India. It travels through the majestic landscapes of Rajasthan within India's Golden Triangle. In fact, the Maharajas Express got its own inspiration from the Palace on Wheels.
Riding the Palace is a bit like actually riding in a palace, except on rails, and the spectacular ride culminates at the Taj Mahal City in Agra.
Another of the famed luxury trains of India is the Deccan Odyssey, whose sleek blue and gold streaked wagons start from the urban sprawl of Mumbai and head down the Konkan coast, taking in the lesser-known yet pristine beaches of Ganapatipule and Tarkarli.
From here, the train swings north into the heartland of Maharashtra, stopping at Pune, the cultural capital of the state, then continues to the ancient cave temple galleries of Ajanta and Ellora, both listed as World Heritage sites.
All these memorable journeys will show off some of India's most spectacular sites while treating you like royalty. 
The Viaduct of Death
Those seeking adventure thrills without the luxury or the long journeys of previous trains will do no better than crossing the Gokteik Viaduct in Myanmar. I did this crossing many years ago but rumor has it the creaking wooden structure has since been renovated, detracting from the adventure if not the beauty.
At 900 feet (274m) high and 2200 feet (670m) long, the rickety viaduct was more than 100 years old when I rode across it, spanning near-vertical gorges on both sides – not for the faint-hearted.
The train was dirty and dusty, with betel nut spittle on the floor and cracked windows. It was a "monster of silver geometry… its presence there was bizarre, this manmade thing in so remote a place," said Paul Theroux in The Great Railway Bazaar. It crawled so slowly a jogger could have passed it.
The train towed several sealed cars filled with armed soldiers kept out of sight. Along the viaduct itself, uniformed men with machine guns stood grimly every few meters.
We even had a bit of an incident on board. After all the dire warnings, a Swiss photographer decided to ignore the warnings and put our lives at risk by using a huge telephoto lens outside a window. From a distance, a telephoto looks like a weapon, and these were uncertain times, with mountains teeming with separatist groups. A strapping Australian jumped on him and wrestled him to the ground, threatening to throw his camera overboard into the gorge if he didn't behave. The Swiss man was quiet for the rest of the journey. 
Great train journeys in the Americas
The expanses of the Americas also lend themselves to some amazing train journeys. Although North America has a robust train network, it is sorely in need of maintenance and is not always a pleasure to use. 
South America is sorely lacking in trains, with most long-distance journeys by bus or plane. 
That said, there are several extraordinary train journeys so we'll focus on those.
The beauty that is Canada
Landscape changes are part of the reason so many of us love a journey by train: a train ride across Canada is one of the most scenic routes you can experience.
From the Atlantic Ocean to the forests and lakes of Northern Ontario, the endless horizon and bright green canola fields of Saskatchewan, and finally into the awe-inspiring Rocky Mountains. They even attach an all-glass train cart after Edmonton for better views of the mountains.
Various classes are available for the train ride, from economy to the new prestige car, a private room with a full double bed, bathroom, viewing window, and unlimited alcohol. 
The train ride is operated by VIA Rail Canada and has two separate trains: the Ocean, from Halifax to Montreal, and the Canadian, from Toronto to Vancouver.
One of the most spectacular views of a cross-Canada journey is passing through the Rocky Mountains, best done on the Rocky Mountaineer's First Passage to the West. The train leaves Vancouver, travels through Kamloops, and up to Banff and Lake Louise. It is quite a journey.
The landscape changes from city to hills, rivers, lakes, trees, bushes, grasslands, waterfalls, and then to majestic mountains. There is no telling what you will see out their domed see-through windows, from goats to elk to even bears.
With various classes to choose from, it's no surprise even Travel + Leisure magazine named this one of the "World's Best Life-Changing Trips".
The Alaska Railroad
And then there's Alaska, "America's last frontier", which you can explore in so many ways, from an Inside Passage cruise to a road trip from Anchorage to Denali.
But perhaps the best way to experience this vast wilderness is to ride the Alaska Railroad.
Built as a 51-mile track starting in 1903, the original line out of Seward was extended another 21 miles beginning in 1909. But in 1914, the United States government bought the railroad, moved the headquarters to Ship Creek (now Anchorage), and began extending the rail line further north to provide reliable access to Alaska's rugged interior in even the most inclement winter weather.
Today, the line carries passengers and freight over 470 miles, from Seward and Whittier through Anchorage, Denali National Park, and Fairbanks. There are two service classes, the most luxurious of which includes glass-domed ceilings and an outdoor viewing platform on the upper level.
Whichever class you choose, the jaw-dropping views of the surrounding mountains, lakes, glaciers, tiny towns, and even wildlife (bears, moose, bald eagles, etc.) along the way make for an extraordinary journey through America's 49th state.
Durango & Silverton Narrow Gauge Railroad
Many North American trains cut through scenery that is spectacular and unforgettable. One of these is the three-hour (nail-biting) train journey on the Durango & Silverton Narrow Gauge Railroad, high up in the mountains of Colorado. The journey will take you through breathtaking canyons, past waterfalls, and majestic peaks in the remote wilderness of the two-million-acre San Juan National Forest.
The national historic landmark railway uses coal-fired, steam-powered locomotives built during the 1920s but the train has been in continuous use since 1881, when miners used it to transport silver and gold ore mined from the San Juan Mountains. 
The ride is about three and a half hours, with a two-hour stop in the historic "Old West" mining town of Silverton, which gives you enough time to eat lunch and walk around the single paved road and no stop lights.
Machu Picchu trains
Far to the south, in central Peru, Machu Picchu may feel like a mythical place, on a remote mountaintop and hard to reach.
One of the most popular ways to get to Machu Picchu is by train from either Cusco or Ollantaytambo. Several train companies offer this two-hour journey through the highlands and minor Inca ruins before finally reaching Aguas Calientes, also known as Machu Picchu Pueblo. From basic to luxury trains, ideally you'll take 2-3 days to travel and explore this UNESCO World Heritage site − but it is possible to do the entire journey as a day trip from Cusco.
TREN TO THE CLOUDS, SALTA, ARGENTINA
I was about 18 months old when I went took this ride (I was born in Argentina but now live in Sweden). The train is the fifth-highest railway in the world, over 4,220m (13,850 ft) above sea level, and connects the Argentine Northwest with the Chilean border in the Andes. Originally built for commerce, it was recently restored for tourism as a heritage railway.
Currently, the train leaves Salta station for the 15-hour, 434-kilometer (270 mi) round trip to the Polvorilla viaduct. There are numerous stops along the way, some with markets selling artisan goods and locals offering regional cuisine. Most take the one-way 8-hour ride to the viaducto and return to the city by other means.
Remember the dangers of altitude sickness: drink plenty of fluids and avoid this trip if you've been partying the night before. Schedules are available from the official website (in Spanish only).
—by Olga Akselrad (Göteborg, Sweden)
Riding the rails in Europe
This may come as a surprise but what is possibly the oldest railway track on earth is in Europe, in Greece in fact: a short paved track that carried boats across the Corinthian Isthmus around 600 BCE. They may not have been self-propelled – they were pulled by horses – but they were indeed grooves along which wagons were pulled.
Wooden rails for horse-drawn carriages date back to the mid-16th century, starting from Austria and spreading from there.
But modern railways as we know them started with the steam engine and the first was built by a British engineer. The 'railroad era' of the 19th century saw the rapid spread of rails throughout Europe, especially among the rail leaders of the continent − Great Britain, France, Germany, and Russia.
Today, Europe is crisscrossed by rail service, a welcome alternative to jumping into your car or polluting the air by flying.
Here are some rides well worth taking, whether because of the stunning scenery they traverse or the trains themselves. And some of them are so short you simply cannot afford to miss them.
The Flåm Railway
The shortest of these scenic railroad trips is undoubtedly the Flåm Railway in Norway, considered one of the most scenic train rides in the world.
This one-hour ride is a must when planning your Scandinavia itinerary and will provide everything you expect to see in Norway − majestic mountains, lovely waterfalls, and the picturesque red houses that are the stuff of postcards.
Over a mere 12.5 miles (20 km), you'll climb almost 3000 feet, making this one of the world's steepest railway tracks and an engineering marvel which has been in operation since 1940. 
You can ride the railway from Flåm, which is in a valley, to Myrdal, up in the mountains, as you watch Flåm, with its church steeple and little houses, fall away below. You can also ride in down in the other direction.
Among the beautiful backdrops of snow-topped mountains and lush valleys and forests is the Kjosfossen waterfall, where the train stops for a view of this unique sight. At Myrdal, the Flåm Railway meets the Bergen Line, so you can get connections to Oslo or Bergen.
The Jacobite
Not far behind is The Jacobite in Scotland, one of the great European train journeys. It overlooks Loch Shiel and runs between Fort Williams and Mallaig in the Scottish Highlands.
The steam locomotive travels over the iconic Glenfinnan Viaduct, a 21-arch structure made popular by the Harry Potter films, and passes by Loch Shiel, with Ben Nevis in the distance.
The 41-mile (66 km) ride is relatively short but immensely scenic, and most people only visit Fort William and Mallaig and experience a ride on the Jacobite.
Riding up the Douro
One stunning trip that belongs on every visitor's list is the (highly affordable) great train journey up the spectacular Douro, the northern Portugal river classified by UNESCO.
This is a normal Portuguese train and contrasts with its picturesque surroundings. You can ride all the way through, or get off at Pinhão for a short boat trip up the Douro. 
There are also several vineyards near Pinhão like Quinta do Bomfim, where you can tour the vineyard or just go to the tasting room and sample glasses of port or wine while looking out over the Douro River.
You can also take the more luxurious historical train, one of the tourist railroads, which goes from Régua to Tua but is significantly more expensive.
This Douro train trip can be done in a day although Pinhão has beautiful accommodation options – such as the 5-star Vintage House Hotel – as well as a few more affordable options like the Douro Hostel. Whatever you decide, an experience along the Douro is one you won't forget quickly. 
Maramures by train
The Maramures train is also a couple of hours long but rather than spectacular natural scenery, it explores one of the lesser-known corners of Romania, where traditions and nature both fight for their existence. It's a place where people come to recharge their energy and get in touch with nature.
One of the most popular things to do here is to ride the near-100-year-old "Mocanta" steam train, which starts its daily journey in Viseu de Sus.
The Glacier Express
The Glacier Express, known as the slowest fast train in the world, is also one of the great railway journeys of Europe.
Over the course of its 300km, eight-hour journey between St Moritz, in Eastern Switzerland, to Zermatt, it passes through 91 tunnels and trundles across 291 bridges. 
The scenery is spectacular: the Landwasser Viaduct, with its six graceful stone arches, gives way to the dramatic Rhine Gorge – "The Swiss Grand Canyon" –  before reaching the highest part of the journey, the Oberalppass (2033m). On the final approach to Zermatt, teased by glimpses of the mighty Matterhorn, the train clatters through mile after mile of larch woods and the vineyards of the Valais region.
While not traditionally a luxury train, it recently upped its game by introducing a premium class that includes a red carpet and a bellman, although first and second classes are also available.
The Blue Train from Belgrade to Bar
One of the longer and more intriguing train holidays in Europe is the ride from Belgrade to Bar, which claims to be one of the most spectacular train journeys in Europe. It connects the capital of Serbia with the seaport of Bar in Montenegro, down from Kotor and Budva.
Montenegro is Europe's youngest country and became independent from Serbia in 2006. Its name means black mountain because most of Montenegro is a rocky mountainous terrain. Building the railway was complex and reflected the rocky terrain of the Dinaric Alps.
The idea was initiated by the ex-Yugoslavia's leader, Tito, who loved train travel. The line required 435 bridges and 54 tunnels and finally opened in 1976. Tito even ordered his own train, the 'Blue Train', which he used not only for his own travel but to entertain foreign diplomats and such prominent (and diverse) guests as Queen Elizabeth and Yasser Arafat.
After the collapse of Yugoslavia, the blue train stood forgotten in a railway depot south of Belgrade but was eventually rehabilitated. Those with the money can now travel from Belgrade to Bar in Tito's blue train on special request. For those on a smaller budget, the regular train rides the same rails along the same scenery.
Other great train trips and famous rail journeys
The Rovos Rail from Pretoria to Cape Town
The luxurious Rovos Rail is the best way to cross Southern Africa, from Pretoria down to Cape Town. Soak up the romance of the magnificent vintage train, the delicious food, and the impeccable service, and enjoy the various available excursions along the way.
Rovos Rail routes vary from short two-night trips to longer 15-day journeys spanning several African countries. Shorter routes include Cape Town to Pretoria or a Durban safari adventure complete with private game drives and a scenic journey to Victoria Falls.
The Rovos Rail experience is one of true luxury. Upon departure, your seamless check-in is almost instant as porters whisk away your luggage. After a glass of bubbly, you'll be greeted by a member of the Vos family, the founders of the company.
Blue Train of South Africa
South Africa travel never disappoints, from savannah villages to the utmost luxury train journeys of the Blue train, named after its iconic blue carriages.
Upon boarding what has been billed as one of the most luxurious great train journeys of the world,  your 990-mile (1,600km) trip between Pretoria and Cape Town will take you through lush vineyards, deserts, and plains blanketed with wildflowers. An added perk is that the train stops at scenic areas and some of South Africa's best-loved tourist destinations.
The train features butler service and fully carpeted, soundproofed, wood-paneled rooms with ensuite bathrooms, many of which come with full-sized baths – highly unusual for trains of this type – plus two lounge cars equipped with an open bar and an observation car.
South Africa is spectacular on its own – imagine what it could look like from the windows of one of these carriages.
The Indian Pacific across Australia
The 4253 km (2704 mi) journey from Sydney to Perth on the Indian Pacific is one of the best train journeys in Australia, joining the Pacific and Indian oceans.
This is no speedy jaunt across the country. The train travels at 115km an hour and takes 65 hours to cross the mainland from east to west, with a slight southern detour to Adelaide.
Riding the Indian Pacific is not about traveling from A to B. It's an experience: three days and four nights of dining, visiting far-flung places with off-train experiences and seeing some of the most stunning natural beauty along the way.
The full journey visits three states New South Wales, South Australia, and Western Australia, with a chance to visit three capital cities.  You also travel along the world's longest straight stretch of tracks (297km) across the Nullarbor Plain.
Much like river cruising, there are off-train experiences along the way or in Sydney or Perth, including such day tours as the Blue Mountains. The train only operates once a week and is fully booked during the high season. You can take only part of the trip, between Sydney and Adelaide or from Adelaide to Perth. 
If you love watching the world go by on a train, you'll know there are more journeys to take than days to choose from…
And please – don't forget your travel insurance before you go! I recommend SafetyWing if you're 69 and under. If that birthday has come and gone, click here for travel insurance that covers you at any age.
Books of interest on Amazon
Like this story? Pin it and save for later